Hello loyal Betty Monroe readers! We would like to let you know that our website is now up and running and we will be using the blog on the site from now on. Thanks for supporting Betty Monroe and we hope you like the new site/blog!
www.bettymonroedesigns.com
Rotti Largo in Gold, the original SC strip tease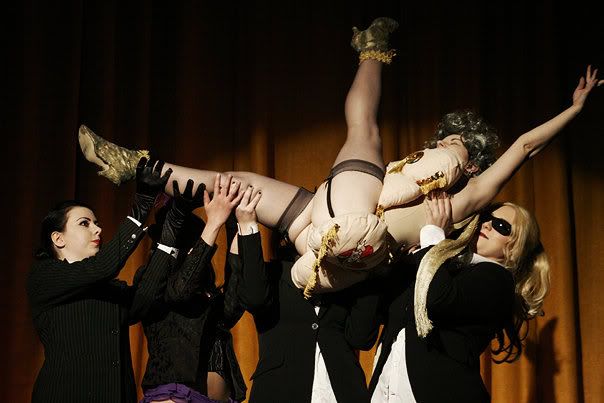 (
So much more below...
Collapse
)
It's monday morning and the show is friday night. The one year anniversary show of the Shadow Cats. One year since we first started shadow casting Repo! The Genetic Opera [and since that day we've done one show per month at the Bloor Cinema]. So it's monday morning and this is when we get the news; Darren Lynn Bousman is coming. Darren. Lynn. BOUSMAN! Director of Repo! Director of this film which we have all spent so many hours watching, studying, recreating and performing. He's coming to watch our show! Feelings of excitement, nervousness, and anticipation, which were already bubbling, are now at a full boil. And this is when we realize "oh my god, we have one week to pack the house!"
Current Mood:

melancholy
Current Mood:

amused


Next semester we have to do the same project but are presenting it to a panel of industry professional instead of grads. We also have the option of doing something other than daywear (which was mandatory for this semester). Laura and I are both taking an evening/bridal wear elective, which I'm sure will influence our designs. We will also be making a jacket or coat instead of a dress and we must make a minimum of two and a maximum of three outfits to show in our presentation. We're very excited for this project!

Here are some photos of Nichola in my outfit...

For our end of semester project we had to create a dress, design a collection around the dress and present our collection a panel of graduates. I was lucky enough to get some help from my friend Nichola, who modeled my dress for both a small photoshoot and my presentation! I also made her a matching headband.
Current Mood:

happy

Current Music:

Laura by the Scissor Sisters
Current Mood:

amused
Today I discovered
Annie Matronic
. It was a good day.
Current Mood:

amused

Current Music:

2012 by Gossip
Grace
.
Grace
is a modernized retelling of the story of Albert Fish, a serial killer who was notorious for eating his victims, among other things. The trailer has finally been released, here it is!
Back in September Laura and I got the opportunity to do wardrobe on an independent horror film called
Current Mood:

content

Current Music:

Runaway by The Yeah Yeah Yeahs
Hope everyone had a wicked halloween! Pictures of our costume will be posted as soon as we find some that do it justice.
I love Margaret Cho. I love Bettie Page. There really is no need for words...
Current Mood:

drooling

Current Music:

Stolen Babies